Indoor distribution robot is the flag intelligent product of Keenon, has a strong ability of independent thinking and calculating, with multi sensors like laser radar, machine vision, visual depth. It could achieve autonomous navigation, accurate identification of the dynamic and static obstacles and stop automatically at delivery point through the machine learning. not only such, robot could access the hotel elevator service system and could up and down the elevator independently. perceived crowding the elevator. Achieve the purpose of saving labor cost through the connect robot mall and finish goods distribution.
Characterized by high and new technology, high technology threshold and high added value, the robot has a far-reaching impact on the disinfection of the whole hospital, the distribution of supplies/meals and the improvement of hospital services.In addition to unmanned disinfection in hospitals, restaurants, hotels, schools and other scenes with high density and high mobility of indoor human flow, it is also equipped with robot elevator object link module to take the elevator independently and provide unmanned delivery service across floors.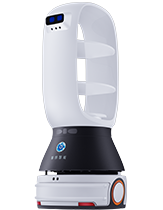 The robots will be responsible for in-time delivery of goods to the guests' rooms. In that case, hotel employees will be released from the repetitive work and focus on service. The robots are connected with elevators and telephones, so that they can autonomously take the elevators up and down, proactively calling the guest room and delivering the goods across the floors. It promotes the standardization of hotel service, ensuring the quality of service and creating a platform of smart hotels.
Combined with the technology of SLAM and AI, using Keenon's mature and stable chassis, the robots can move freely and stably for a long time in the complex environments. And with the modes of voice interaction, the robots can flexibly work and friendly interact with people, as well as contactless delivery of wines, snacks and other goods.
Discover the delivery Robots Family, designed to fit to your business.
Guiding, Hotel and Medical Robots
Discover also our guiding robots, hotel robots and medical robots. Designed to your kind of business.